OUR VERY DEDICATED VOLUNTEERS
Our volunteers are especially dedicated to the work here at Sky Harbor. Their devotion, concern and
dedication is most valuable to the animals and our cause.
Volunteers at Sky Harbor assist with everything from feeding babies, setting up caging for new
admissions and emergencies, capture, release and of course, the MOST fun part…..cleaning up
those messy cages !! Now, how fun is that?
There is always something to keep us busy here at the center…preparing for the arrival of tiny
orphaned raccoons found in a box of fruit delivered to a fruit stand; catching a young raccoon inside
a large cage for release; working for weeks with tiny squirrels and raccoons, who have been
traumatized by some event that brought them to us, just to get them to take a bottle of formula.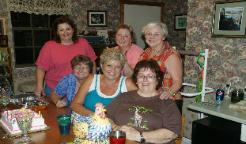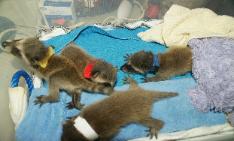 Volunteers are trained right here, on the job and quickly understand there is more to rehabbing
than cuddling sweet fuzzy babies. Patience becomes a necessary virtue, wearing wet clothes with
feeding formulas and various other undesirable fluids on them becomes the norm. Hot, tired, we
learn so much and go away with great satisfaction and success. Over the years, we have
discovered that pretty much, "anything is possible"…!
Volunteers are always welcome and encouraged at Sky Harbor. If interested, contact us, set up an
initial visit and come see if you are ready to be a part of our volunteer family. Without volunteers our
work would be so much more difficult and not nearly as much fun !
Remember, handling and caring for wild animals can be dangerous and is usually more involved
than caring for a pet. Please be responsible and kind, call a rehabber who is trained in all aspects
of wild animal care. As humans, we already do so much damage with construction and too many
roadways, don't do more damage by trying to care for the animal yourself.
Our purpose in rehabbing wildlife is to give them a chance to return to their homes in the wild…..and
not to live a lonely miserable life as a pet or for our personal entertainment.
WILDLIFE BELONGS IN THE WILD, NOT IN YOUR HOME !!!