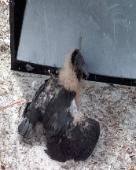 RED HOT NEWS FLASH
ME, MOM AND THE
VOLUNTEERS ARE
HAVING A
FUNDRAISER. IT WILL
BE NOVEMBER 5TH
FROM 9 AM UNTIL 5
PM. HERE AT THE
CENTER.
WE ARE HAVING FACE
PAINTING, MUSIC,
GARAGE SALE AND
BAKE SALE ITEMS TO
SELL (UNLESS I GET
TO THEM FIRST).
THERE WILL BE SOME
RAFFLES AND NIFTY
ITEMS TO BID ON. YOU
WILL GET TO SEE THE
ANIMALS, THE CENTER
AND HOW MOM AND
THE VOLUNTEERS
WORK SO HARD TO
SAVE EVERYONE!
WE WILL HAVE
CRACKED CORN SO
YOU ALL CAN FEED
THE BABY DUCKLINGS!
ALL THE MONEY WE
RAISE WILL BE FOR
THE OTHER ANIMALS
HERE AT THE CENTER.
IT COSTS A LOT TO
FEED ALL OF US.
SO TELL ALL YOUR
FRIENDS (I KNOW I
HAVE!) I AM LOOKING
FORWARD TO SEEING
YOU ALL THERE!
THE VODDERS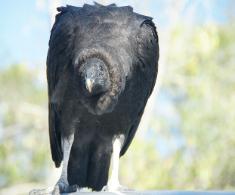 VOD'S JOURNAL
Vod here, so what's new at Sky Harbor wildlife? Well, let
me just tell you! First of all…my journal…that's what's new. I
just got my very own column, so I can help my mom, Lynda,
who runs the wildlife center tell you all about the fun new
things going on and the new friends that come in for help!
She gets really busy, so I am taking over for her!
Since I am telling you things, let me tell you first, about ME
and how I got here at Sky Harbor!
When I was just a wee vulture, I fell from my
nest…..squabbling with my brother, you know how THAT
goes! Well, HE pushed me and the next thing I knew I am
on the ground! As I was trying to figure out how to get
back in the nest before mom got back…my vulture mom that
is, I hear this funny noise…ooooh, like something breathing
heavy and growling. There in the bushes was this hairy dog
and he wasn't looking too nice at all! Next thing I know he
is trying to eat me…….I screamed for mom, but she was out
grocery shopping and couldn't hear me. I ran and ran, but
the dog got hold of me and bit me, right on my little
backside, a bunch of times!!
After what seemed like forever, my mom came home and
attacked the dog. He didn't like that much and ran off.
Mom couldn't figure out how to get me in the nest again
either. My behind really hurt, it was bleeding and now flies
were starting to come and sit on it!
Then, a nice lady came along and found me all miserable, so
she took me to Ehrlich Animal Clinic, where my mom's
friend Cindy works. They were very nice to me there, made
my behind feel much better and fixed me right up. Then
they sent me to live with my human mom, Lynda who runs
Sky Harbor Wildlife Rehab!
Mom said she was in love with me the moment she met
me…(she said I was just adorable!) She put the medicine on
my behind every day and fed me. Soon I was feeling much
better and growing!
Once I got bigger I moved into a nice big cage outside
where I met many new friends, ducks, geese, even a couple
big fat turkeys! I got to know Celeste, Syxx, Tigs, Ms. Siam
and all the other cats that live here and the dogs, Hunter
and Roscoe!
All the volunteers were so nice to me and some would
even stop on the road when they came in to volunteer and
pick up some yummy road kill for me to eat!
Once I was grown and all my feathers were grown in, mom
let me out of the cage. I hung around the place and mostly
followed mom and the volunteers around. (They fed the
owls and hawks meat, so I was hoping for a hand out)
One day some other vultures came and introduced
themselves to me. They said I should learn to fly, so I did! I
was pretty bad at it at first, but got better with practice.
Mom would laugh when I landed and fell over or had to
keep running before I could get stopped! "Vodders,"
she would say, "you gotta get that landing gear down
sooner!"
Time passed and I got better at flying….and landing~! I
would fly off with my friends and go out for a few roadside
smorgasbords now and again, but I always come home to
check on mom!
When I am home, I always try to help mom with the work
load. I am very good at gardening….once mom planted
some Lirope plants in front of the care center. I came
along and helped her…you should have seen the look of
appreciation on her face when she saw I had pulled all 20
feet of the ones she just planted out of the ground for her!!!
Mom is really glad I am there for her! She says she doesn't
know what she would do without me!!
I help her pull weeds, help with the trash ( she puts it in a
bag for me and I pull it out and sort it, you know…paper,
plastic, glass…..recycling!) and even helped dad with some
digging this summer! He was making deep trenches and
putting in some white pipe so the raccoons pools could
drain…..so I helped by pushing the dirt back in for him since
it was SO hot out and he looked tired! He was really happy
about it too! He called me by my nickname…"Buzzard" when
I helped with that! Dad loves me!
So that is about me. I am a big help here at the center and
mom says I am the ambassador for all vultures when
people come and meet me! I like visitors, we show them all
around and let them meet the animals who are here getting
better so they can go back into the wild! And, of course,
they get to learn all about vultures!!!
Check back often, I will have great news and fascinating
stories about us and the critters here! You won't want to
miss a single thing!